Whether you are an employer or employee, you probably know the importance and value of a good employee benefits plan.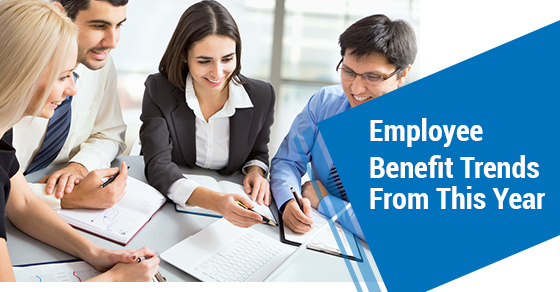 Employers offering benefit plans want their employees to have a higher level of amenities and advantages available to them, which will set them up for success. But sometimes, employees want to make their own decisions, and as such we have seen some changes in employee benefit plans landscape.
Highlighted below are the top 3 trends:
Wellness programs are becoming increasingly popular.

If you have a well designed and properly administered program, it can help reduce employer premiums and help to promote a productive and healthy workforce. Employees who feel better work better. It is a good idea to start looking into wellness plans that will help your workforce to be in the best possible shape in both mind and body.

Voluntary Benefits: letting the employee make the decisions.

Not everyone will want to be a part of the standard benefits plan. With voluntary plans the employee pays all of the costs. The employees can choose the right voluntary plan based on their current situation.

Health care spending accounts can work for your company.

It is a pre-determined amount of money that is provided to employees in January of each year. It provides coverage for dental and medical expenses. Employees submit claims and they are reimbursed similarly to a regular benefits plan.
At Step Benefits Group, we provide the following services for employee benefit plans:
Creating benefit plans that are cost-effective and sustainable
Full market reviews
Annual renewal negotiations
Plan design and cost containment strategies to minimize financial risk
Developing managed care programs to manage health, dental, short and long-term disability claims
Proactive claims reporting
Solutions to meet regulatory, governance and administrative objectives
Assisting in union environments with collective agreements and negotiations
Health Care Spending Accounts
Health and Welfare Trusts
Employee Assistance Plans
Wellness Plans
Sick Leave policy and procedure development
Contact us at your earliest convenience to discuss your organization's employee benefits plan. We can help you to revamp, revitalize and reevaluate your current plan and find ways to make it better for you and your employees.