A high level of employee retention seems to be getting increasingly difficult to achieve. How can you guarantee that your staff won't jump ship and go work for another company when there are so many easy ways to connect with potential employers online? While some employees may remain loyal and stay with you until they retire, others can grow antsy and wish to move on after a couple of years.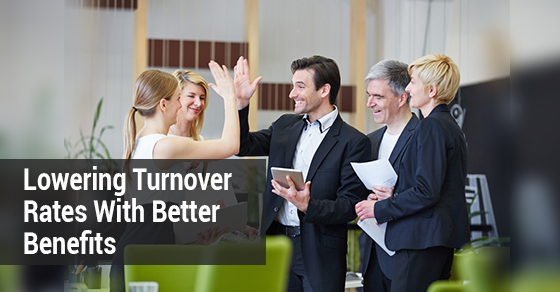 If you constantly have to train new employees because you can't retain your current staff, there is something you can do to get your personnel to stay!
Better benefits can lead to a lower employee turnover rate. Why? Well, there are numerous factors:
Demonstrate value:

If you offer retirement plans and excellent benefit packages, you are showing your employees that you value them. You are telling them that you want them to be healthy and be able to take care of themselves both mentally and physically. When your staff knows that you care about them, they'll be less inclined to leave.

Stay competitive:

Stay up-to-date on industry trends and find out what types of new packages your provider is offering. Your employees may be content with their package one day and realize it doesn't offer the coverage they need the next.

Work with your HR department to remain current with the insurance industry to keep your staff from leaving for a firm that offers newer, more enticing benefits. Review your benefits package yearly to ensure you're staying in line with what other companies in your industry are offering.

Benefits appeal to stragglers:

As much as we'd love to staff only those who are there for the passion of your industry, you'll always get one or two employees who are there simply for the paycheque. These employees have potential to return to top form, but they need a little push. Better benefits will keep them from moving on and will motivate them to give you their best work again.
By offering better benefits, you are giving your employees a reason to stay with your company. Lower employee turnover rate and keep your staff happy by offering them a benefits package that demonstrates the value you see in them.
For more information on how a comprehensive benefits package can add value to your workplace, talk to us at the Step Benefits Group today!