While it is common for full-time workers to receive certain benefits after successfully completing a probationary period, part-time workers often find themselves with little or no benefits.
This begs the question: Should you offer benefits to part-time employees?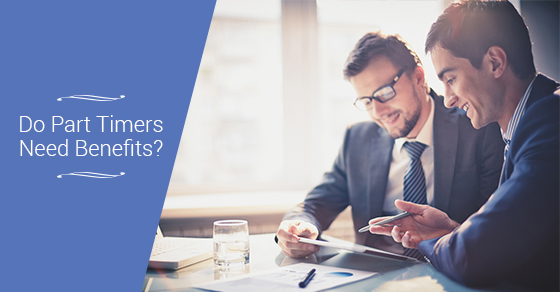 Whether health insurance, paid sick time, paid vacation time, or life and disability insurance, there are lots of possible benefits traditionally available to full-timers that may not be available to part-timers, but that doesn't mean that they shouldn't be available to your part-time staff.
Read on to find out some of the reasons why you should offer benefits to part-time workers.
Differentiator
One reason to consider offering benefits to part-time workers is that this can be seen as an important differentiator in the competitive marketplace. For instance, if you're looking for part-time help and you see that there is too little supply for too much demand, you can set yourself apart in a good way by offering benefits such as health and medical plans.
Employee Morale
Although you are not required to offer benefits to part-time employees, you can improve morale in the workplace by showing all workers, whether full-time or part-time, that they are valued. Of course, it may be difficult to justify offering part-timers all the benefits offered to full-timers without possibly requiring them to make greater contributions from their paychecks.
You should also keep in mind that some of your part-time workers may eventually transition into full-time workers, so offering them at least a basic benefit package as part-timers could give them the incentive to remain with your firm until full-time positions become available.
Fairness
It may be argued that it really all boils down to fairness. If you have full-time workers and part-time workers, you don't want the latter group to feel like second-class staff. Offering at least some benefits will make for a more equitable workplace environment that will aid in developing the sort of corporate culture that attracts and retains talent.
How We Can Help
At Step Benefits Group, we offer specialized consulting services as it pertains to all your employee benefits plan needs. Our long list of services will help you with your company needs, no matter how large or small. To learn more about what we can do for you, contact our team today for more information on how benefits can help keep your employees healthy, and can help your company grow!