Benefit plans provide important protection to employers and their employees. Health coverage keeps workers healthy and maximizes the productivity of the entire organization.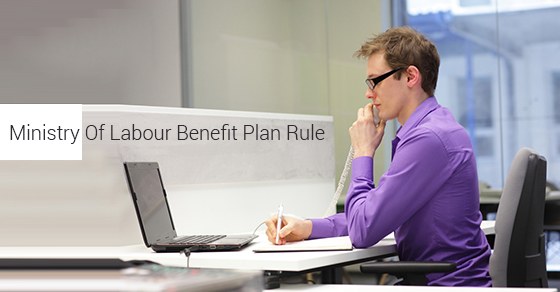 Absenteeism and costs related to surgery or medications quickly add up and can lead to financial pressures for employees and increased costs to their employers. Providing the right benefit plans must follow the rules set in place by the Ministry of Labour. The following are the considerations employers need to make when providing benefits to employees.
Employer and Employee Rights
Employees value the benefits provided by the companies they work for, but there is no requirement for employers to provide coverage according the rules of the Ministry of Labour under the Employment Standards Act (ESA).
However, the rules in place protect employees against discrimination when employers do decide to provide benefit plans. ESA rules also protect female employees in cases where they must miss work due to pregnancy-related health issues.
Employees retain the right to continue their participation in benefit plans during times of absence due to personal emergencies, death, or pregnancy.
This includes extended health, accidental death, and life insurance plans.
Discrimination Protection
The Ministry of Labour's rules include protection against discrimination for reasons that include gender, age, or marital status. If an employee is between the ages of 18 and 65, employers cannot base their coverage decisions on age.
Discriminating against an employee due to gender or pregnancy is also prohibited under the ESA rules. Additionally, marital status cannot be a determining factor in providing benefit plans to employees. Discrimination of married, common-law, same-sex, or unmarried status is against the rules outlined by the Ministry of Labour.
Rights to Continue Participation
Employees who participate in pension, life insurance, extended health, dental, and accidental death plans are given the right to continue their participation during times of leave. Under this provision, employers providing coverage are obligated to continue paying their portion of the plan's premiums.
Employees can choose to discontinue their participation by providing written notice to their employers. In cases where employees notify employers that they'll no longer cover their portion of the premium, the employer is no longer required to do the same.
The Ministry of Labour rules regarding benefit plans are specific to the payments and requirements of the contribution of each plan. Providing benefit plans to employees is an important part of hiring and retaining a skilled and productive workforce. Businesses who provide benefit plans must understand the rules of the Ministry of Labour to ensure that employees receive the coverage they need.
For more detailed information, contact our team today!