Health packages vary from company to company. In most cases, optical coverage is not offered because it's considered a secondary health issue. Although a large percentage of the Canadian population wear glasses or contacts to correct their vision, standard benefits packages usually leave out vision care.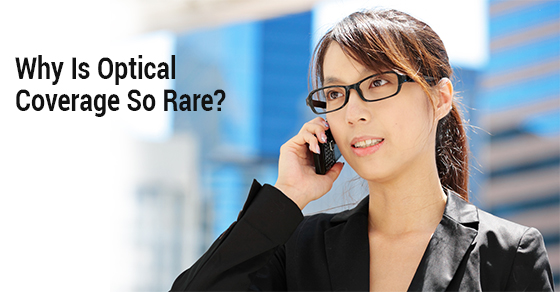 Vision care can be a costly service to provide. For example, the average price for LASIK eye surgery in Ontario starts at $450. This price doesn't include taxes and can cost more depending on the state of your eyes. Most employers want you to be able to see properly so that you can do your job, but they may not be able to afford to provide you with optical care due to its higher cost.
Optical coverage varies per province. If you're lucky enough to live somewhere that allows for more flexible benefit packages you can take advantage of eye care. If you live in the province of Ontario, Saskatchewan, British Columbia or Alberta, optical care is only offered by the province to specific groups such as diabetics and children. However, if you have an emergency where you need to see an eye doctor due to a work-related incident, it's likely that your company will cover your visit.
In most Canadian provinces, medically required vision care is covered by most providers and physicians. 'Medically required optical care' consists of cataract surgery, ophthalmic maladies associated with diabetes, and laser eye surgery that is required due to ocular diseases. Unfortunately, standard vision tests, glasses and contact replacements, are not considered required care.
Nevertheless, there are some exceptions to the rule of medically required vision care. Some companies offer optical care such as:
Once yearly standard eye testing for you and your children/dependents.
If you have an eye emergency and are treated by a physician at a hospital and not an ocular clinic, your treatment will be covered.
For any non-required optimal care – especially LASIK – you will need to provide specific information from your ophthalmologist that says you must have the procedure. For people with severe cases of glaucoma, you may be illegible for medically required vision care. The same applies to those who suffer from chronic ocular migraines and other lingering conditions associated with the eyes.
Remember, each province regards eye care differently. We are happy to help you see and understand how optical care works. Contact us today to hear about the optical coverage possibilities that you can make available to your employees!