When it comes to your employees, you have certain responsibilities as an employer to provide for them. That doesn't mean you need to give them an exaggerated salary or luxurious bonuses, but you should help them plan for their future. By offering a pension plan to your employees, you are not only giving them the tools to prepare for retirement, you are strengthening your company!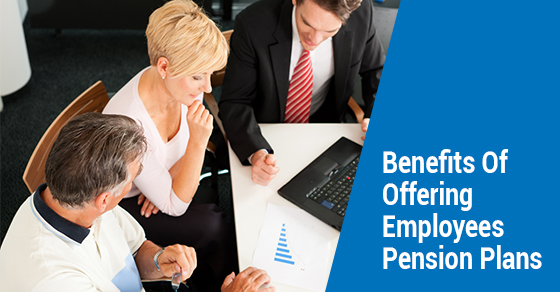 If you're unsure as to whether you should offer your employees pension plans, here are five principal benefits for you to consider:
Employee retention:

A pension plan gives your employees peace of mind. It lets them know that their future is taken care of and that when it comes time for them to retire, they'll be all set. It's not uncommon for employees to seek employment elsewhere to be granted that security. Offering a pension plan not only keeps your employees happy, but often it simply keeps them from looking for another job.

Attract potential employees:

If you're looking to add staff and don't offer a pension plan, chances are, you will have a hard time securing new employees. People tend to turn down jobs that don't offer extensive benefit packages and pension plans because it signifies that the employer isn't invested in their wellbeing. Pension plans aren't just bait for older potential employees either; an increasing number of younger employees care about their future and are interested in the benefits of a comprehensive plan.

Increase productivity:
Employers are always looking for ways to increase productivity in the office, and one surprising way to do so is with a pension plan.

The less your employees spend worrying about their future, especially the more senior employees who are approaching retirement, the more time they focus on working in the present.

Pension plans offer financial security. Pension plans are great incentives for your employees because it allows them to rest easy knowing their retirement is taken care of.

Think of it this way: If you leave the house without an umbrella and someone tells you it's going to rain, you will spend ample time worrying about when the downpour will hit. If you leave the house with an umbrella, you won't care when it rains because you are prepared. A pension plan is a future umbrella for your employees that let's them feel confident for their retirement and focus on the present.

Worry-free benefits:

In most cases, the pension plan is set up by an outside party. This is beneficial to your employees and also for you. When an outside party is in charge of your employees' pension plan, they are doing all the legwork so you and your staff needn't worry about it.

Benefit enhancements:

Pension plans can enhance the benefits your already offer. By giving your employees a complete benefit package that includes medical, dental and a pension plan, you are giving them the ultimate resources to succeed at the office and at home.
The benefits of offering pension plans pay off in both the long and short term. For more information on how to get started, contact Step Benefits Group today!