While some Ontarians who have workplace pensions and considerable savings stand to do fine upon retirement, many who are not as fortunate could face a lower standard of living when they retire. In response to this reality, Ontario plans to roll out the Ontario Retirement Pension Plan (ORPP) in 2017.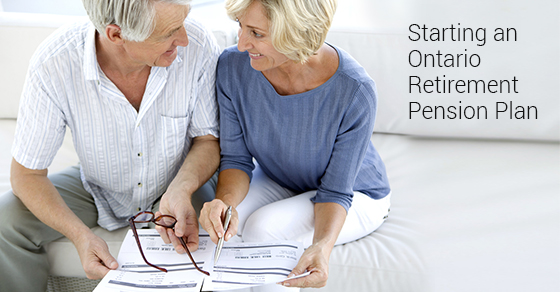 According to the provincial government as stated in "The Ontario Retirement Pension Plan: Discussing a Made-In-Ontario Solution," the ORPP will build a solid and sustainable income system that will help working Ontarians to enjoy a comfortable retirement. It argues that the Canada Pension Plan (CPP), Old Age Security, Guaranteed Income Supplement, workplace pension plans and other tax-assisted personal savings simply aren't enough for many Ontarians to comfortably live on. Essentially, the ORPP would initially boost pension coverage to in excess of 3 million working Ontarians.
While there have been proponents and detractors of the Ontario government's plan, the fact of the matter is that it remains committed to moving forward with the ORPP. While it will be implemented in 2017, it will be phased in over a number of years.
But how do you start an ORPP anyway? This article is an exploration of this question. It will focus on what the Ontario government sought to accomplish, and how it proposes to do so.
1. Reliable Income Stream
Starting an ORPP necessitates putting in place a system that provides reliable income streams to Ontarians in their retirement years, and it needs to index benefits to inflation in the same way that the CPP's retirement benefit does.
2. Pool Longevity Risk
The ORPP also needs to offer a financially viable benefit by pooling longevity risk or the risk that Ontarians applying for the ORPP could outlive their savings. It also needs to pool investment risks or the risk that lower-than-anticipated investment returns could lead to a lack of retirement savings.
3. Equal Contributions
The ORPP necessitates equal contributions from workers and employers, not going over 1.9% each on earnings to a yearly maximum of $90,000. As per the plan in place by the Ontario government, the ORPP's maximum earnings level will climb annually, consistent with boosts to the CPP's maximum earnings amount.
4. Replace Portion of Worker's Earnings
The ORPP will seek to replace 15% of people's earnings, up to a maximum yearly earnings amount of $90,000.
5. Earned as Contributions
Benefits will, under the ORPP, be earned as contributions are made, which will ensure that the system is equitable and that younger generations do not have to be burdened by taking on further costs.
6. Publicly Run
Another feature of the ORPP is that it will be publicly run by an organization that is arm's length from the Ontario government.
A lot goes into putting together an ORPP. Announced as part of last year's budget, the ORPP will be rolled out in 2017, though full implementation is expected to take a few years. If you are an Ontarian of working age, you owe it to yourself to learn as much as you can about the ORPP before it comes in effect.