Employment and Social Development Canada announced that Old Age Security (OAS) and Canada Pension Plan (CPP) would enjoy additional benefits starting 1st January 2016. Here are the key points regarding this announcement: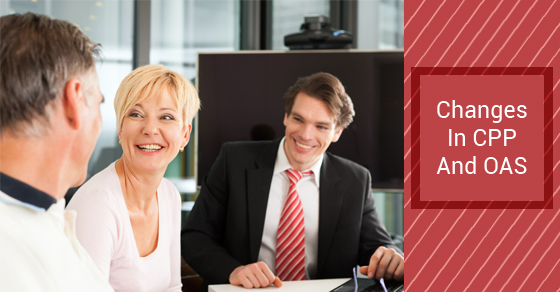 Those already receiving CPP benefits will get a 1.2 percent boost.
The maximum CPP retirement benefit, for the year 2016, for new recipients aged 65 will be $1,092.50 per month, which is a $330 increment compared to the 2015 maximum amount.
OAS benefits, which comprise the Guaranteed Income Supplement (GIS), the basic OAS pension, and the Allowances, will be increased by 0.1 percent for the first quarter of 2016. So, starting January 1, 2016, the basic OAS pension will be $570.62 per month, compared to the previous $569.95.
The Minister of Families, Children, and Social Development, The Honourable Jean-Yves Duclos, mentioned in a press release that the government is committed to improving the income security of seniors by not only increasing the Guaranteed Income Supplement (GIS) for the elderly living alone, but also indexing Old Age Security (OAS) and GIS payments to a new senior's price index and calling off the increase in the age of eligibility – the proposed age of 67 from 65 – for OAS.
The new CPP rates should be in effect for the whole of 2016 (until 31 December), though OAS benefits will still be reviewed quarterly (April, July, October, and January), and revised accordingly to reflect the rise in cost of living as assessed by the CPI.
While the CPP and OAS benefits are not indexed at the same time, both are adjusted based on the cost of living as measured by the CPI over a given year.
Facts about the Relevant Institutions
The Canada Pension Plan (CPP) and Old Age Security (OAS) seek to improve the quality of life of seniors in Canada by providing a modest base upon which they can build additional income for retirement.
The Quebec Pension Plan (in Quebec) or the CPP, receives its funding via contributions by the self-employed, Canadian workers, and their employers, as well as via investment earnings on the Plan's funds. Besides retirement benefits, the Plan seeks to provide survivor, death, disability, and children's benefits.
The OAS program receives its funding via general tax revenues, which enables it to provide a basic monthly income for Canadian seniors. In the period 2014-2015, 5.6 million individuals received $44.1 billion in OAS benefits.
The monthly disability pension is $1,290; the survivor's pension for those under 65 is $593.62; for those aged 65 and above it's $655.50; and the death benefit $2,500. Changes have also been made to the maximum monthly old age security benefit amounts starting January 1, 2016.